Amaze your loved ones with realistic pencil sketch photos created in a moment.
Transform your images into impactful pencil sketches using 60 Sketch & Mood Effects:
2 one-click Photoshop scripts

Volume 1 - 30 photo effects
Volume 2 - 30 photo effects

Menu selectable effects
All 60 effects applicable at once as JPGs
Photoshop CS3 through CC2019
Fear not for manipulation of the original photo or layers. It duplicates your file first before editing.
Now complete the look of your pencil sketch images in one-click. Grab these for $24 only.
Let's Stalk These 60 Outstanding Pencil Sketch & Mood Effects! 
Volume 1: 30 Pencil & Mood Effects
Volume 2: 30 Pencil & Mood Effects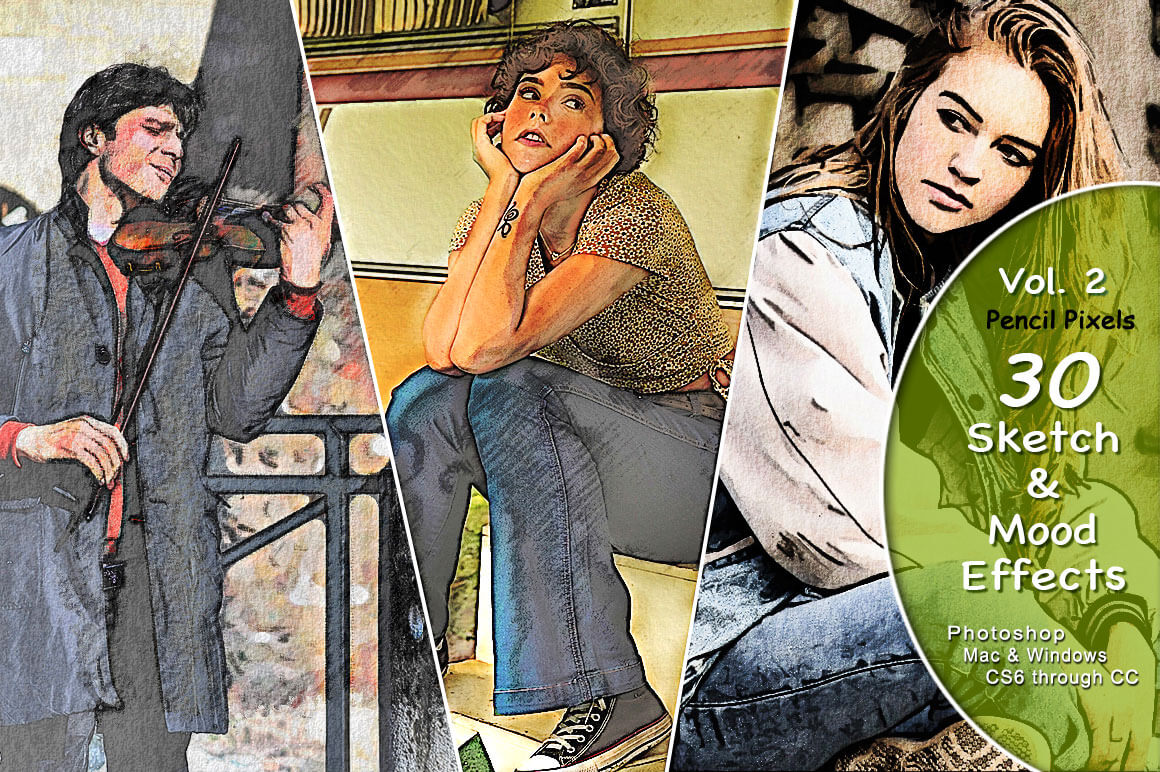 What Will You Get In This Deal?
This deal includes bundles that are called Mood Effects.
There are two volumes of Sketch & Mood Effects.
It includes all sort of moods - dramatic, watercolour, marker, pencil, sketch, poster, blue line, cartoon, comic, smoothing and many more.
These are Menu selectable effects.
You can output all 30 effects at once as JPGs.
These effects do not use or manipulate your original image or layers. It duplicates your file first.
Layers can be additionally manipulated using these sketch and mood effects.
Colour layer (if a colour effect) is pre-masked for the partial reveal of colour.
These effects work exceptionally well with portraits, figure studies and composite artwork.
Traditional media looks are invaluable for quality storyboard art output.
These photo effects work smoothly on Mac OS X or Windows.
These are compatible with Photoshop CS3 through CC 2019.
Volume 1 and Volume 2 are "lightweight" - so there is just 1 file.
There are no additional brushes, backgrounds or styles to load in order to get great results in one click.
List Of Mood Effects Included In Volume 1:
Medium Hard Pencil
Light Pencil Shading
Soft Thick Pencil
B&WGraphic
Saturday Morning
Flat Tone Colour
Colour Graphic
Soft Morning
B&W Inversion
Emerging Colours
Grunge Colour Sketch
Toon Transition
Smoothing Application
Faux Neiman
Crossover Media
Cosplay
Colour Markup
Active Acrylic
Colour Pencil
Circus Poster
Blue Line
Graphic Novel
Moonlight
Sin City
Red Alert
Pearl Gray
Glossy Cosmic Cover
Crossover Watercolour
Ink & Watercolour
Toon
List Of Mood Effects Included In Volume 2:
Pencil Sketch
Shaded
Pencil Drawing
Hard Shaded Sketch
Pencil Shading
Tone Shaded
Soft Shaded
Storybook
Stylized 1
Cinemagraphic
Stylized 2
Dream
Concept Art
Cartooning
Chalk
Outline
Book Cover
Stylized Drawing
Colour Concept
Chalkboard
Soft
Water Paint
Book Cover Rag
Comicbook
Coloroid
Tarot Card
Hard Colour Sketch
Soft Illustrations
Colour Drawing
Editorial
So.. Get Started!!!
Complete the look of your pencil sketch images now in seconds within one-click.
Deal Terms:
This bundle is delivered as an instant download.
You will get lifetime access to the bundle.
Commercial license included in this bundle.
You can use this bundle for the unlimited number of projects.
You can not resell or redistribute this bundle.
Become an artist now. Turn people's head with beautiful pencil sketch photos in a moment.
Grab These 60 Pencil Photo Sketch & Mood Effects
At A Price Of Just $24
Normally: $65            |             You Save: 63%